At the Los Angeles (USA) International Auto Show, Kia unveiled the harbinger of the Concept Kia EV9 full-size electric crossover. This car is built on an extended version of the Hyundai-Kia E-GMP modular platform , which is designed specifically for electric vehicles and, in principle, does not involve the use of an internal combustion engine. The units of the electric power plant in E-GMP are arranged as efficiently as possible, i.e. do not hide the useful volume of the cabin. Recall that two serial products of Hyundai-Kia are still based on E-GMP – these are compact crossovers Hyundai Ioniq 5 and Kia EV6 .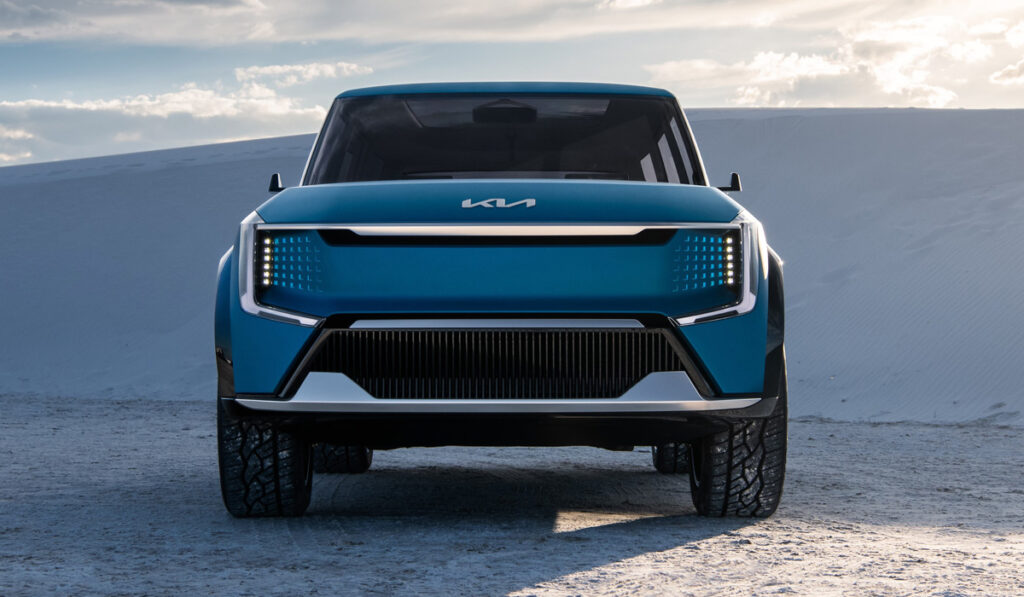 Kia EV9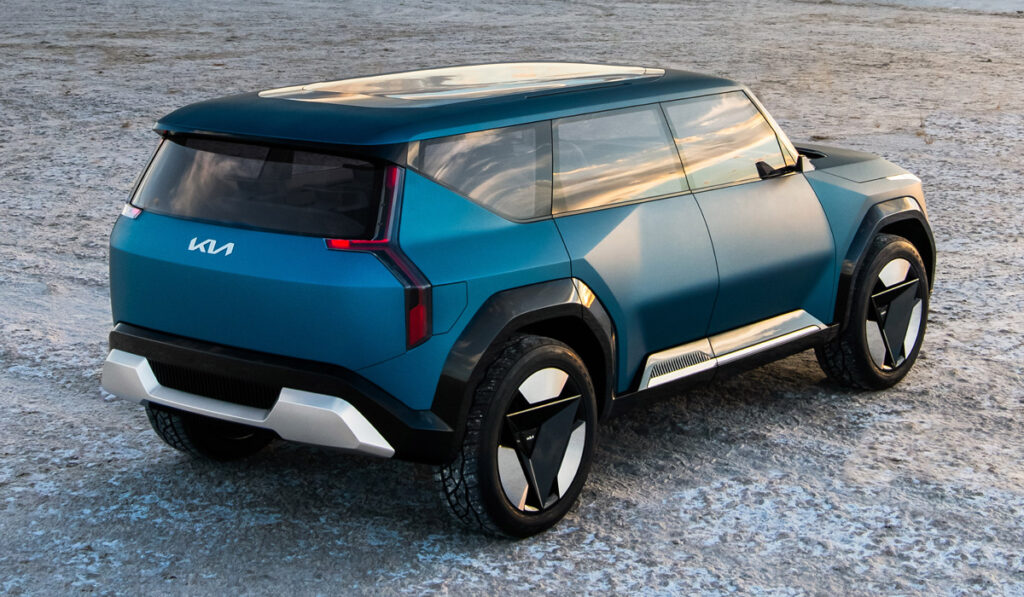 The exterior of the Concept EV9 is characterized by a distinctive two-volume profile with a long horizontal bonnet, flat roof and low windscreen angle. The surfaces of the outer panels are clean and minimalistic. The A-pillars and C-pillars are painted in black lacquer, forming a single styling element with the glazing, and thus create the effect of a floating roof. The broken edges above the wheel arches look interesting, which visually expand the body and make the perception of the car more masculine. The headlights and lights are located at the edges and are made entirely of LEDs. Wheels are 22-inch. The appearance of the car was created under the leadership of Kia chief designer Karim Habib, who previously worked at BMW for many years.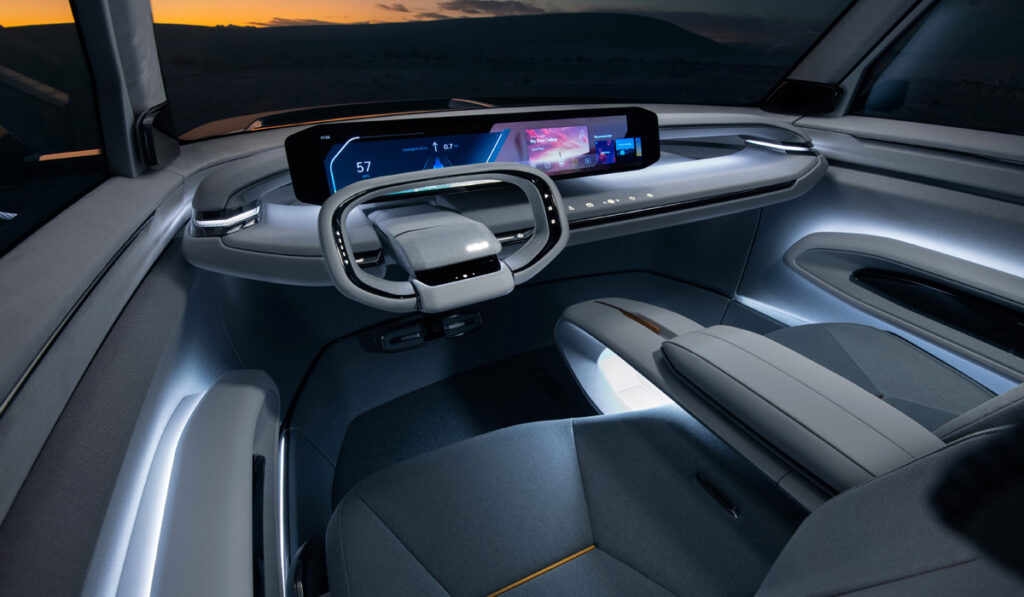 The length, width, height of the Kia Concept EV9 are 4930, 2055 and 1790 mm, respectively, with a wheelbase of 3100 mm. The machine is equipped with two electric motors (one per axle), they provide permanent four-wheel drive. The power of the installation is not specified, however, the estimated acceleration from standstill to 100 km / h for a 5-meter mastodon with a curb weight of more than 2 tons is only 5 seconds. The engines are powered by a lithium-ion battery with a capacity of 77 kW * h, the estimated power reserve on a single charge reaches 480 km. The system supports recharging from a 350 kW station, with its help the battery energy reserve from 10 to 80% can be replenished in just 20-30 minutes.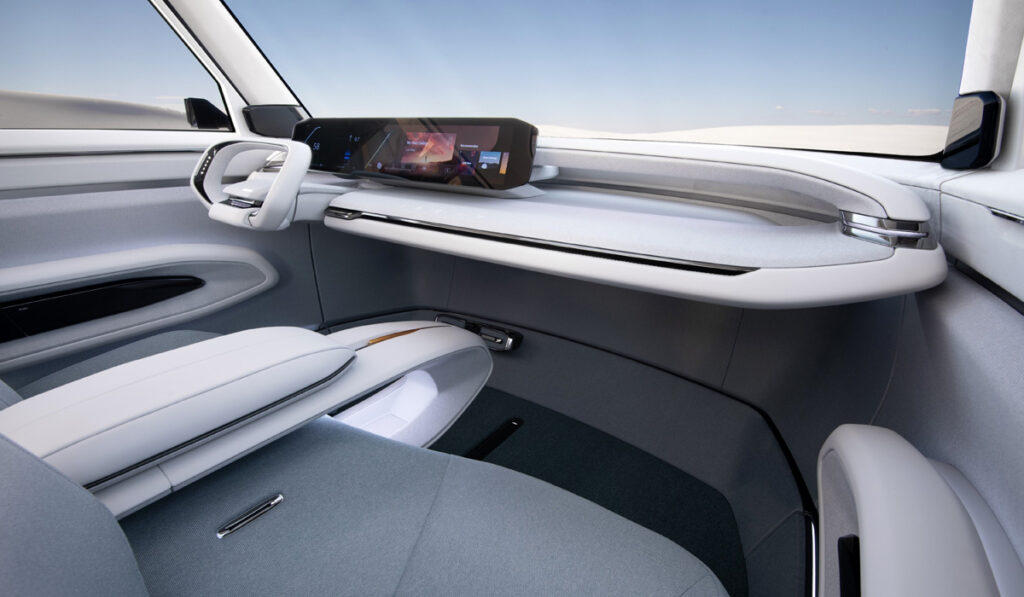 Inside, there are interesting things – a folding steering wheel of a "rectangular" shape, a 27-inch media display and a three-row seven-seat layout with wide transformation possibilities. For example, Enjoy Mode is provided, in which all the seats rotate 180 degrees, and the tailgate opens, so the driver and passengers can enjoy the surrounding landscape without obstacles.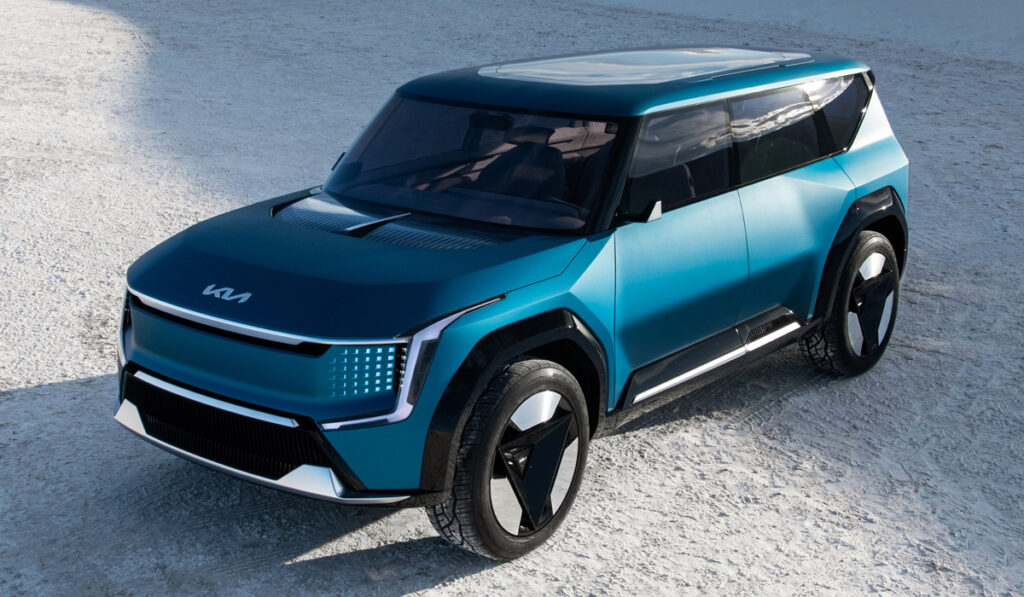 The production version of the Kia EV9 will be released in 2023.