After opening the Concept image for more than a year and there is news about the opening of the actual model for almost a year Finally, a luxury electric car 2022 Mercedes-Benz EQS has actually made its debut. It also confirmed that it will run a maximum distance of 770 kilometres / 1 full charge, ready for sale around September.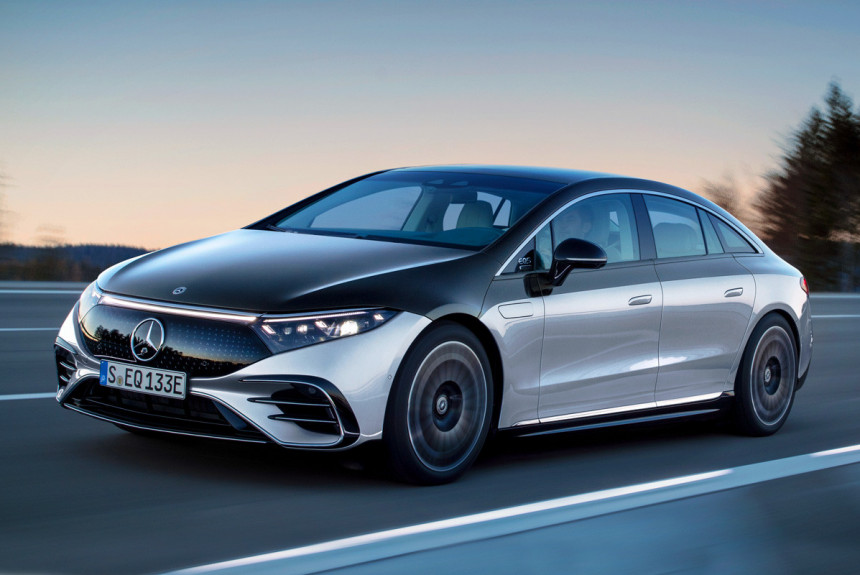 The 2022 Mercedes-Benz EQS is the luxury electric sedan that will be launched in two variants: the EQS 450+ rear-wheel drive and the EQS 580 4Matic all-wheel-drive model. It uses a motor to drive 329 horsepower, torque 568 Nm, which creates an acceleration from 0-100 in 6.2 seconds and a top speed of 210 km / h. The EQS 580 4Matic all-wheel-drive model uses a dual electric motor that produces 516 horsepower and 855 Nm of torque that can achieve 0-100 acceleration in 4.3 seconds and a top speed of 210 km / h as well. Packed with a 90 kWh lithium-ion battery. Makes it possible to run a maximum distance of 770 km from a single charge (EQS 450+ is expected).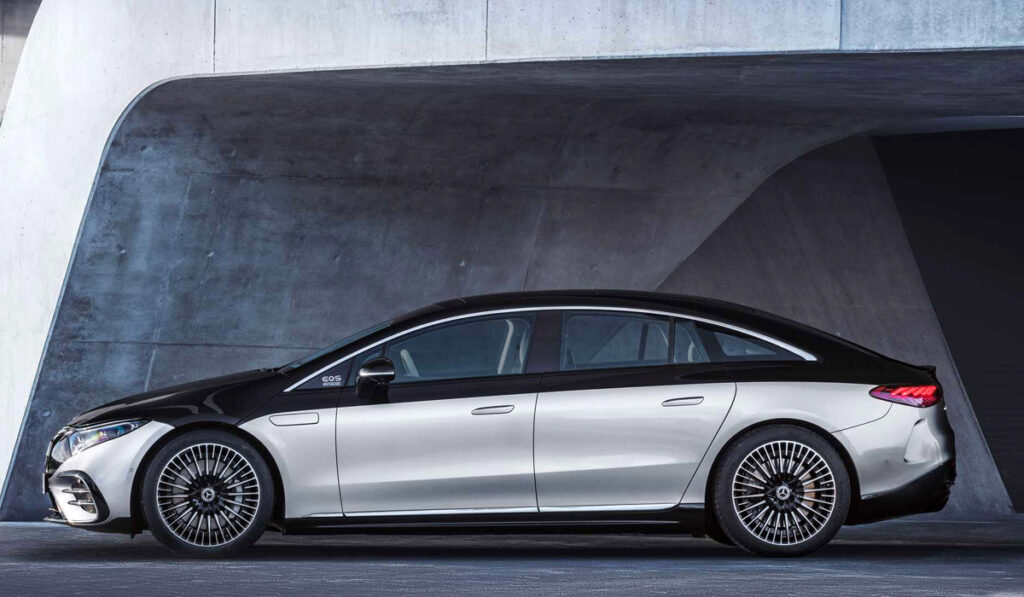 The 2022 Mercedes-Benz EQS supports fast charging with a maximum power of 200 kW, allowing 10-80% charge in 31 seconds, and if charging for just 15 minutes increases the range up to 300 km (in the EQS model 450+), but if charged with an 11 kW charger, it will take 10 hours to fully charge, but if you choose a special optional 22 kW charger, it will reduce the charging time 10-100% at a time. Only 5 hours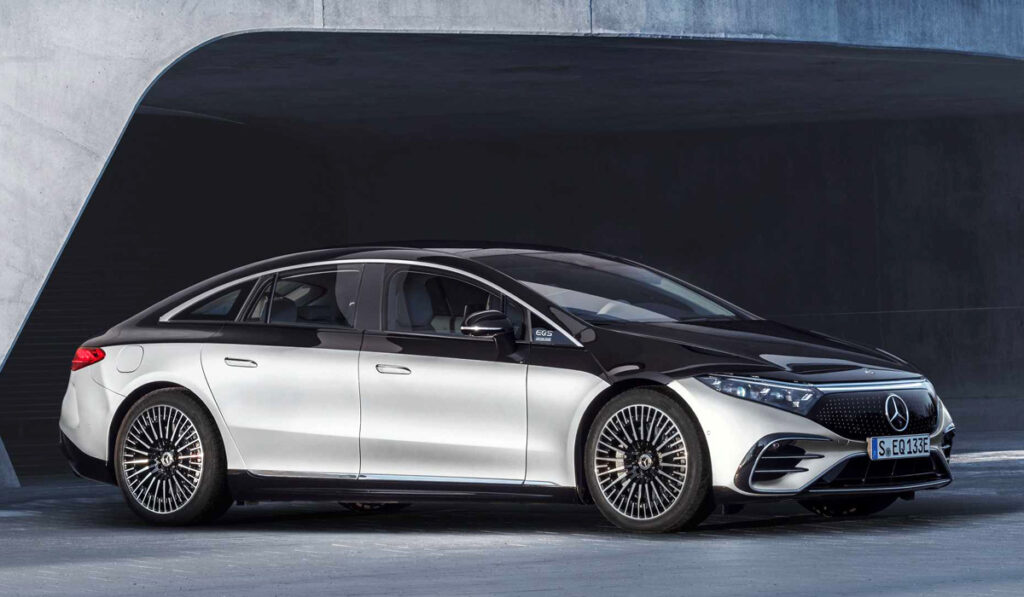 The Mercedes-Benz EQS also derives its design largely from the Vision EQS concept, almost entirely featured with a black grille panel. Expected by Daytime Running Light, a long LED horizontally across the edge of the upper grille. With LED headlights with an intelligent light projection system 1.3 million pixels to be projected or graphics onto the front road in order to warn drivers or communicate with other vehicles. Horizontally throughout the end cap as well Max wheel part Available in 19, 20 and 21-inch sizes.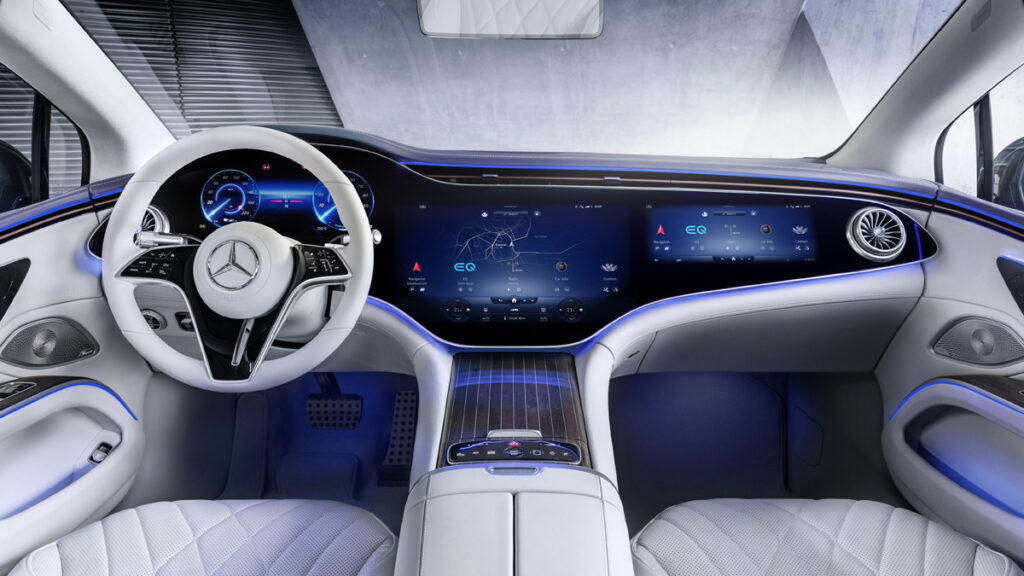 The interior of the Mercedes-Benz EQS is distinguished by the new MBUX Hyperscreen draped over the front console. This includes a 12.3-inch driving information display, a 17.7-inch infotainment centre screen and a 12.3-inch front passenger entertainment display, including three, approximately 1,410 millimetres long, and the rear passengers. There will be two 11.6-inch screens for personal entertainment. Burmester's audio system, 710 watts of power from 15 speakers, 4 split air conditioners, interior upholstered with good quality leather.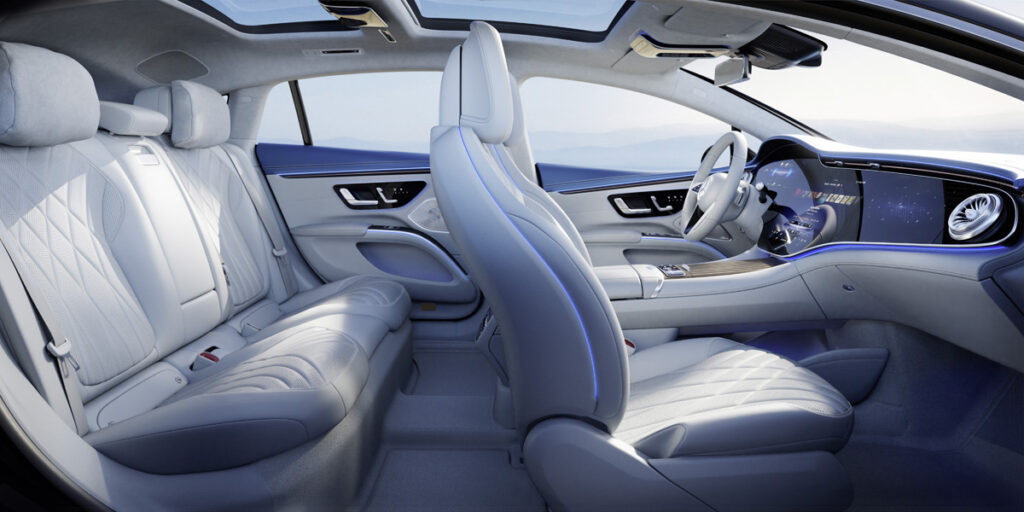 The safety system in Mercedes-Benz EQSThat is definitely full From both driving assistance systems, such as Variable speed control system adaptive cruise control, lane-keep assist control system, car-centre-lane control system lane-centring assist, traffic-sign recognition, lane-change assist, lane-change assist, side blind-angle warning system, blind-spot monitoring, rear cross-traffic alert when reversing, rear cross-traffic alert There are also many other systems such as automatic braking and manoeuvring system, Active Emergency Stop Assist with lane-change support, automatic emergency braking system, autonomous emergency braking, park assist systems, 360-degree cameras around the car, etc. It will also be equipped with a level 3 autonomous driving system that allows the car to be fully self-driving. Without the driver having to look at the route But must be ready to take control of the car at any time Initially, work can be done only on the freeway in Germany and during traffic jams.
Mercedes-Benz EQS to be available in the US Around September No official price has been announced yet.