Honda's luxury car brand Acura has announced a new 3-row seat SUV "MDX". MDX, which was reborn as the 4th generation by a full model change, reigns at the top of the lineup as Acura's flagship model.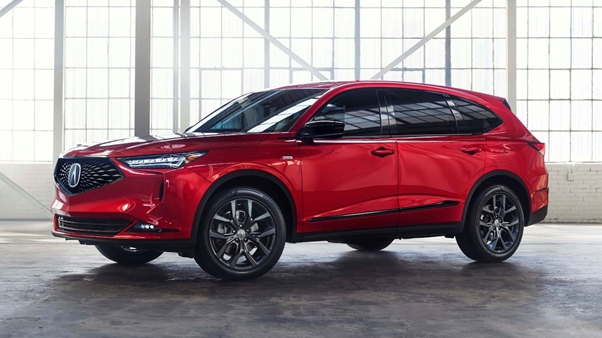 Exterior
The styling continues the design of the previously published prototype, completing a bold front mask such as a large diamond pentagon grille and jewel eye headlamps with four LEDs. The shape of the bonnet and bumper has also become sharper than the previous model.
The wheelbase has been extended by 71mm and the tread width has also been increased by 35mm. In addition, the dash-to-axle, which is the distance from the front axle to the dashboard (A pillar), has also been expanded by approximately 150 mm, emphasizing its presence as an SUV and its aggressive side view.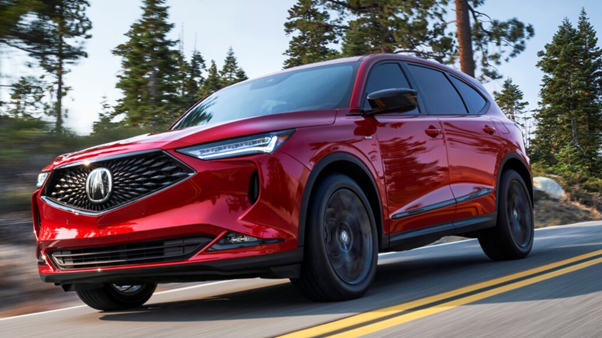 The new MDX uses a newly developed lightweight platform. Double wishbone suspension is used for the first time on the front (multi-link suspension on the rear). According to Acura, the chassis has been made more rigid and the new suspension system has made it possible to drive aggressively.
In addition, a new belt-driven electric power steering system (variable gear ratio) has also been adopted. The front brake rotor has increased diameter and thickness and is equipped with an electric brake booster. The heat capacity is improved by 18%, and the braking distance when the collision mitigation braking system is activated is also shortened.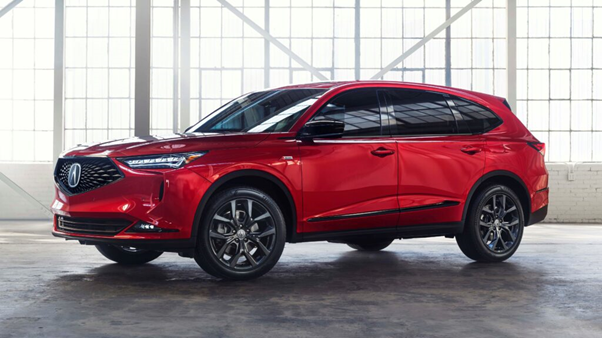 19-inch wheels are standard equipment, and 20-inch wheels are available as an option. In addition, by adopting a newly developed resonator (silencer) with a built-in wheel, road noise is reduced even with large wheels.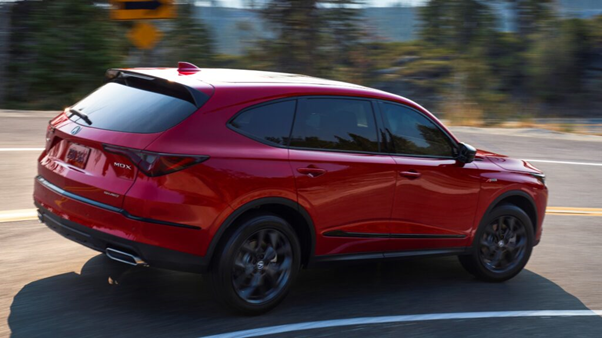 Acura MDX Powertrain
The on-board power unit is a 3.5L i-VTEC V6 engine with a maximum output of 290 horsepower and a maximum torque of 362 Nm. The transmission uses a 10-speed AT (with paddle shift). The standard drive system is FF (front-wheel drive), and super handling all-wheel drive (SH-AWD) is available as an option. SH-AWD can supply up to 70% torque to the rear axle, all of which can be distributed to either the left or right rear wheel. According to Acura, torque transfer from front to rear is 30% faster than the previous model SH-AWD.
Acura MDX Drive Mood
There are five drive modes: "Snow", "Comfort", "Normal", "Sports", and "Individual".The driver assistance system is equipped with "Acura Watch" equipped with adaptive cruise control with low-speed tracking function, the latest lane departure prevention function, traffic jam assist, and traffic sign recognition function. Traffic Jam Assist adjusts the speed according to the pace of the preceding vehicle during heavy traffic. It also has a pedestrian detection function and a new driver attention monitor.
Interior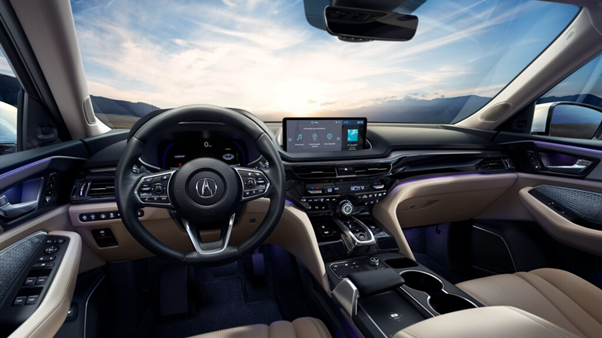 The interior is equipped with a multi-section passenger airbag newly developed by Acura. Acura is aiming for a 5-star safety test by NHTSA and a top safety pick + in the IIHS test.
The packaging is still 3-row seats and 7-seater, but the new model has expanded the interior space. The interior colour scheme is also available in 6 colours. We offer high-quality materials such as wood, aluminium and Milan leather. In addition, a 12-way adjustable (with memory) sports seat is standard equipment on the front. The higher-grade "A-Spec" also has ventilation.
A highly flexible multifunction seat is newly adopted in the second row. You can use it as an armrest by tilting the backrest of the centre seat, or you can remove it for easy access to the rear seats. The seats in the third row have a head clearance of 10 mm, a legroom of 60 mm, and a seating position of 50 mm higher. The trunk capacity is 462L at normal times and 513L including the underfloor space. You can expand up to 2022L by defeating the 2nd and 3rd rows.
Equipped with a 12.3-inch digital cockpit and a 10.5-inch head-up display in front of the driver. The center console has a 12.3-inch full HD touch screen. Similar to the sedan "TLX", physical volume control etc. are adopted.
Equipped with USB-C and USB-A charging ports, it also supports wireless connection of Apple CarPlay / Android Auto. It also features a 15W wireless charging pad and Amazon Alexa Built-In. You can also operate music, audio settings, air conditioner, navigation, and moon roof from the smartphone app. It has a built-in 4G LTE modem and a WiFi hotspot.
Prices start at $ 46,900.