a 2022 Rolls-Royce Phantom VIII recently captured some details of a test run on the streets of Germany. The location of the British super-luxury sedan test drive near a facility of BMW – the parent company of Rolls-Royce to prepare for the launch of the Phantom VIII facelift later this year since its initial launch in 2017. .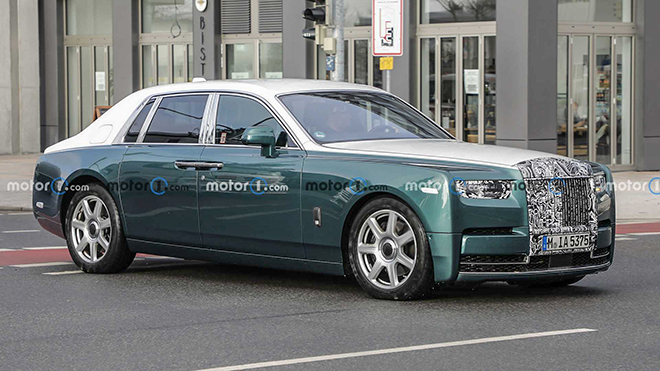 2022 Rolls-Royce Phantom VIII
The slightly upgraded Rolls-Royce Phantom VIII was caught testing in the standard SWB variant with a wheelbase of 3,552 mm, shorter than the EWB long wheelbase variant with a size of 3,772 mm. The length of Phantom VIII SWB is at 5,672 mm, while the EWB version is up to 5,982 mm.
The car's exterior combines two-tone chlorophyll green and white running from the front to the rear of the car. Notably, the traditional grille of Rolls-Royce is now covered on the Phantom VIII. That shows that this car company has had some upgrades with this detail, but it is not clear what the upgrade is.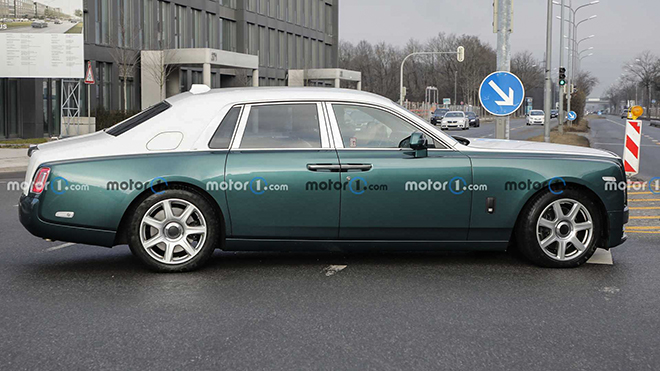 Not stopping there, the lighting cluster is also covered around the border. It is possible that the upgraded Rolls-Royce Phantom VIII will be equipped with BMW's new lighting technology that will be available on models launched in 2022.
The rear end of the facelifted Rolls-Royce Phantom VIII is completely revealed with the same design as the current version, but the rear bumper does not have the appearance of a symmetrical single exhaust cluster. However, it is not excluded that it is only a test version, so the factory only temporarily assembles the car, after the test period, the car is fully equipped with exhaust pipes like the current version.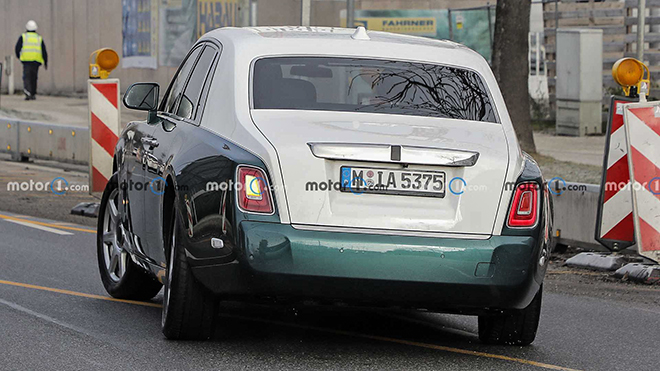 Many people will think that Rolls-Royce is testing an all-electric Phantom VIII model when looking at the rear photo, but an information from Car Magazine published in August 2020 said, the British luxury car brand only launched the EV version in 2022 with a very small number and in a different segment.
Therefore, the facelifted Rolls-Royce Phantom VIII is likely still equipped with a V12 engine, capacity of 6.75L, for a maximum capacity of 563 horsepower and maximum torque of 900Nm, comes with an automatic transmission 8 level, with the ability to accelerate from 0-100 km / h in just 5.4s with a maximum speed of 250km / h while the weight of the car is more than 2.5 tons.